BUYERS LEARN MORE
Fenda's DealStrike tool reinvents how New Zealanders buy used cars.
Communicate with the vehicle seller through DealStrike to make an offer, negotiate terms remotely, and generate a legal sale & purchase agreement.
How Fenda works for buyers – step by step
Browse cars on Fenda or find one elsewhere – like Trade Me, car fairs, Facebook or roadside.
Use DealStrike to contact the seller to view the car, make an offer, negotiate online (no face-to-face haggling!), and finalise your deal or if you've already found a car, made a deal and now want a loan and insurance.
When your deal is struck, we'll run a free check to see if the car's got a current WOF and rego, make sure the seller and odometer are legit, and see if there's any debt owing or recorded damage.
Getting finance right away from one of our trusted partners is all part of the online process too – including pre-approved loans. Share the details we need and you can get a decision for rates between 9.95% p.a. and 29.95% p.a. variable, depending on your circumstances. Lending criteria applies. See Loans
Or get pre-approved finance through us before you start looking then shop confidently, knowing how much you have to spend. See Loans
Then you sign your agreement and we'll do the rest! We'll track your payment to the seller and once it's complete, arrange a VTNZ inspection, process any insurance paperwork and transfer ownership.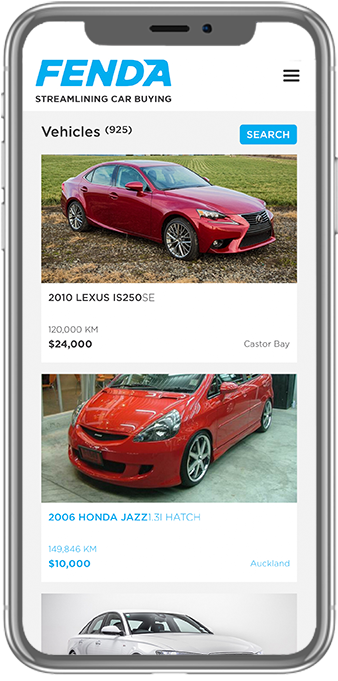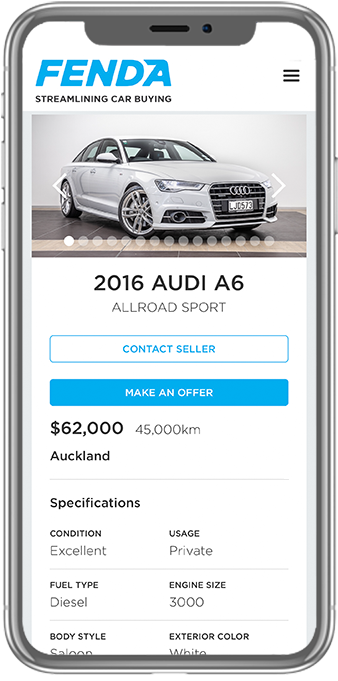 That's it! Fenda makes things that easy.
Who should buy through Fenda?
Anyone looking for a quality used car who wants to do it safely and end up with a good buy! We've brought all the complexities of car buying together in one place so you don't have to talk to the car owner, finance company and insurance company separately. Fenda's a game changer that will get you into your new car faster.

Firstly, I will keep saying this you're doing an awesome job looking after me and sorting me out. Your level of service is outstanding and will be highly recommended for anyone interested in purchasing a vehicle. Scott J (Buyer)
Thanks Jeff for helping me go through the process of buying this car. I will spread the word on Fenda. Ronnie (Buyer)
You can buy cars here on the Fenda site, or anywhere else and still use the Fenda system to help you.